Discussion Starter
·
#1
·
So, where to start ...
I guess the first thing to do is describe exactly what knock is in as much detail as possible, and then why to avoid it. I'll move on to tuning after that.
Knocking:
Knocking is a phenomenon where cyllinder pressure and temperature are such that certain gasses which have already partially burned are able to spontaneously ignite at a rate quick enough to cause a spike in cyllinder pressure.
Here's knock on a cyllinder-pressure trace:
Here are the primary "modes" of resonance for a pent-roof combustion chamber:

Here is a graph of the knocking frequencies for a pent-roof combustion chamber versus crank angle: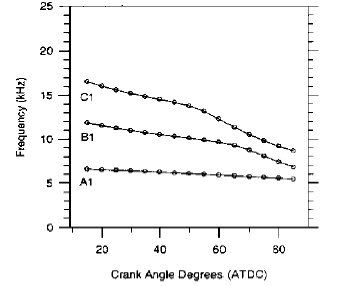 Here's why you don't want knock: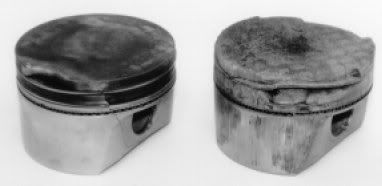 There are still SAE papers published stating that knock is the auto-ignition of the remaining Air-Fuel mixture (un-burnt) in the cyllinder, however this is not the case. Back in the 1940's NACA (now called NASA) was investigating this in aircraft engines. They had to invent a special camera, which did not exist at the time, capable of a frame rate which could catch the source of the detonation.
What they found was that detonation originated at the
rear
of the flame wave, and that it did not always coincide with auto-ignition of the un-burnt gasses. Because of this it was suspected that one of the reactions which normally happens slowly in the combustion process (like the oxidation of CO -> CO2) was spontaneously jumping to a second faster reaction rate.
The pressure spike caused by severe knock can often blow away the boundary layer that protects the piston. Since the piston melts at temperatures well below combustion temperatures this can quickly cause severe damage. Aluminum is also much weaker when it's hotter.
Tuning, and Avoiding Knock:
Tuning for cruising is relatively simple. Find your MBT (maximum ignition advance for best torque) either by extensive testing (like done at the factory) or through an ion sensing feedback scheme. If fuel mileage is your goal, an Air/Fuel ratio of about 16-17:1 will deliver the best mileage per unit fuel. If emmissions are your concern then about 14.7:1 with short trips to 17:1 to give the oxidation catalyst some oxygen even 30 seconds or so should deliver the best emmissions.
Tuning for power
is another matter ...
First a couple terms need to be quickly defined. "Flame Development Angle" is the number of crankshaft degrees it takes from when the spark is lit to when 10% of the combustion gasses have burnt. "Rapid Burn Angle" is the number of crank angles it takes to burn from 10%-85% of the air/fuel mixture. "Laminar Burning Velocity" is the linear rate at which the mixture burns. Peak Pressure Position is intuitive and represents the crank angle where peak pressure is achieved. Idealy it should be located at 14-17 degrees after top dead center: this is considered MBT, which is an acronym for Maximum timing for Best Torque. Here's a chart showing various ignition angles and peak pressure positions on a naturally aspirated Saab 2.3L:
Chart.
Now the players in the tuning game:
More fuel: Slows both Flame Development Angle and Rapid Burn Angle. Cools combustion gasses. Requires more ignition advance to achieve MBT. Lowers EGT with comparable Peak Pressure Position.
Less fuel: Speeds up both Flame Development Angle and Rapid Burn Angle. Increases cyllinder heat. Requires less ignition advance. Increases EGT with comparable Peak Pressure Position.
More Ignition Advance: Causes higher cyllinder temperatures and pressures. Generates more torque per unit air as it approaches MBT. Increases tendancy to knock.
Less Ignition Advance: Lowers overal cyllinder temperatures and pressures. Generates less torque as it receds away from MBT towards Top Dead Center.
Here's a graph that shows the relationship between both Rapid Burn Angle, and Flame Development angle with various ignition timings on a 2.3L naturally aspirated Saab engine: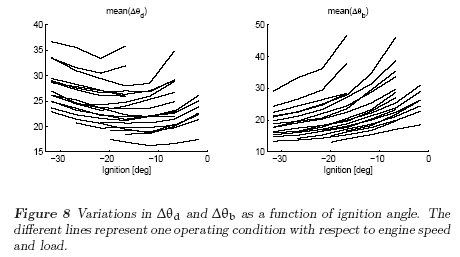 The Tuning Envelope:
Turbocharged engines have what should be termed a "tuning envelope". The boundaries of this "envelope" are knock and EGT. Knock comes from too little fuel or too much ignition advance. High EGT comes from too little fuel, and too little ignition advance. On a turbocharged engine the combustion "mass" is variable. Therefore if you remove ignition timing the torque does not have to decrease because you can raise the boost and increase the "area under the curve". This does more work, and generates more torque. It also increases EGT because it requires less ignition timing, and generally less fuel.
The Two Main Tuning Strategies:
The Rough Safer Tune:
Lots of fuel, not so much boost. This keeps cyllinder temps down. Because the fuel slows both burn angles it requires more ignition advance. It tends to be "rougher" than the lean tune, but it's much easier on engine componants as they run cooler. The reason for the perceived roughness is due to the high peak cyllinder pressure which causes strong gas vibrations. The timing is also more varied on most engines. The typical Air/Fuel raito for this tune is about 10-11:1 at peak horsepower. This tune is generally what you see as a factory tune.
The Leaner Meaner Tune:
Less ignition timing, less fuel, and lots more boost. This is the method most of the aftermarket Saab tuners employ. It dramatically raises the EGT due to the reduction in fuel and ignition timing. Sometimes the fuel is increased at peak torque, but generally this method works best around a 12-13:1 Air/Fuel ratio slowly leaning out towards redline as the tendancy to knock decreases. The reduction in fuel brings up the burn angles and thus reduces the time the gasses are under pressure/heat. It also reduces the peak pressure, while making the curve "fatter". This tune is often deceptively fast as it's very "smooth". (Higher RPM also reduces the amount of time the gasses are under pressure/heat and thus reduces the tendacy to detonate on most engines. By higher RPM I mean higher than peak torque.)
Something Important to Consider if Tuning Your Own Saab for High RPM:
If you are using the Direction Ignition System with the Ion-sensing knock system there can be problems with running high RPM. The problem is that the ignition coil "rings" and this ringing takes up more and more crank angles as the RPM increases because it takes a fixed amount of
time
.
Here are what I would consider
minimum
safe ignition timings for specific RPM such that the ringing stops before 5 degrees ATDC. Knock may be a lot less likely at high RPM, but these will allow the Ion Sensor to function fairly well:
4500: 20 degrees
5500: 25 degrees
6500: 30 degrees
7500: 36 degrees
The formula to determine when the ringing will stop goes like this (if the timing is BEFORE top dead center like it should be, use a negative sign for that number):
Ring Stop Angle = Ignition Angle + (8/1500) x RPM
Here's a graph (bottom one, the top is cyllinder pressure, bottom is ion current) which shows the thick black vertical lines which represent the "ringing" of the coil. This is at a very low RPM, which is why the ringing stops rather quickly: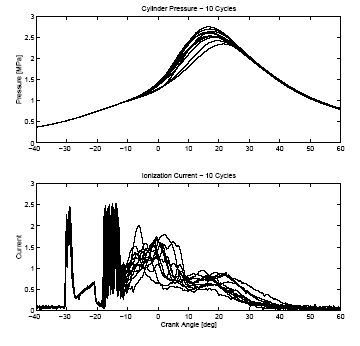 Here is a graph of the burn angle versus engine speed and load. Higher burn angles mean a slower burn. Lower burn angles mean a faster burn: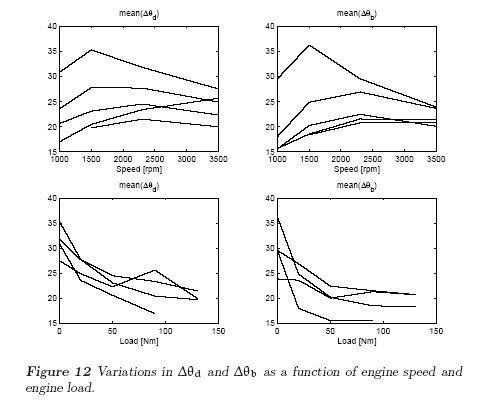 Here's the timing (dark blue) and boost (light blue) of a stock Viggen: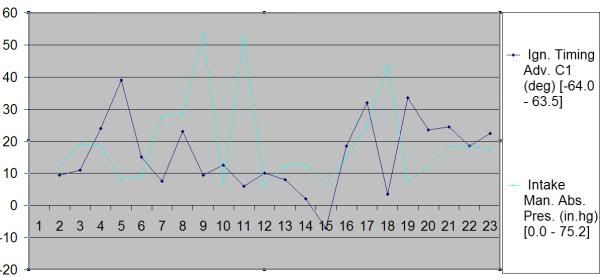 I may add more comments later. If there are questions or if anyone wants clarifications, let me know so I can do my best to give them.
Most Saabs are pretty close to the edge of the tuning envelope on anything but very high octane fuel. Some, like the B235R, are at the edge even on the high octane fuel. In order to get more power on street fuel the EGT most go down or the "mechanical octane" must go up to have a "safe" tune. Only small increases can be made within the
proper
envelope.
Adrian W~