Discussion Starter
•
#1
•
so my car started life as a vector sport with hirsch upgrades (spoiler , rear deffuser , and super inca alloys )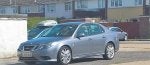 so after a year
decided it was time to look towards keeping the ting together .
so set upon changing the complete suspension
brakes , and genrally keeping on top of everything .
so shopping list was as follows -
2- front Bilstein b4 shock absorbers
2-front top mounts and bearings
2- lower spring covers
2-anti roll bar drop links
2 front road springs
1- set of front drilled and grooved mintex discs and pads .
1- set of front transparent braided brake hoses
DOT-5.1 brfake fluid (inc complete fluid change)
2-rear Bilstein B4 shock absorbers
2-rear top shock absorber mounts
1 set of rear drilled and grooved mintex brake discs and pads .
1-set of rear transparent braided hoses
plus complete brake fluid change
(did not change rear springs or lower mounts as they were changed last MOT)
complete gearbox fluid change ( due to N/S driveshaft popping out whilest change front N/S shock)
and as usual for me oil and filter change
this time i changed brands to Asda Vauxhall OIL
so with only say 4 hours per week end (sunday after noon ) i started it .
O/S rear first . which i completed in 3 hours
next N/S rear again 3.5 hours (had a bit of a tadoo with top mount )
The next was the N/S front . and O/S front ,
had brakes and struts out in no time
as i knew i could re build struts in my shead ( or so i thaught )
a foot note -----
top strut nut is recessed 22mm and theres a female torx in the shock so you have to counter hold one as you unscrew the other
i have seen kits on that well known auction site , but starting at £60.00 i thaught there must be a way
Found my solution , i brought a Lambda sensor removal tool (they are all 22mm and split down the side )
i brought one with an off set hole for your ratchet . then i was in business .
rebult struts with new springs (one of the old ones was somewhat original with coloured dots had you guessed it broken at the bottom
the other was of an unknown make,
so re-fitted with new brakes and pads
came to do the hoses , and the banjo end was too small , so for the time being have re-fitted old ones ( i brought the braided hoses as a set suppoidly for my car )
rears fitted fine fronts ?????????)
so mailed seller and got a bit of a shifty response )
so mailed the makers HEL Performance
with all my details of the car and turns out theres a different set that also fits the later cab ,
and they do the fronts separatly .
changed the gearbox oil (came out black )
oil filter and oil
and in the mean time got hold of some 20" vxr alloys
so for the moment its complete apart from front hoses
and booking in to have 4 wheel laser alingment done .