Discussion Starter
•
#1
•
Hi
Is there any way to lift both rear wheels off the ground at the same time with a car jack on a 2008-2011 9-3 TTiD? I want to jack it up so I could put two jack stands under the rear hoist adapter contact points.
In my case the rear Floor Jack Lift Point is blocked by exhaust pipes - TTiD has two exhausts in the rear. There's no way to access that point without squashing the pipes and I'm unsure to jack any other points in the area.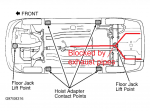 Found some similar threads out there, but none seemed to answer my question.
Hope anyone here has some tips.